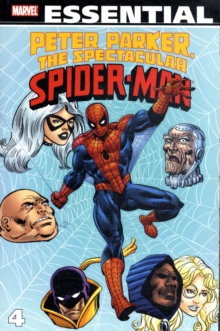 Peter Parker, the spectacular Spider-ManVolume 4
Part of the Essential series
0785130713 / 9780785130710
Stock expected by 30/05/2022
26 cm ca. 571 p. : chiefly ill.
Writers, Bill Mantlo, Al Milgrom ; pencilers, Al Milgrom et al.; inkers, Jim Mooney et al.; letterers, Joe Rosen et al.
The Black Cat's ready to give up crime for her Spider-sweetie - but in a gang war between Dr. Octopus and the Owl, good guys can end up hurt...Bad!
But Spider-Man's at his fighting best when things look worst - and with his heroine hospitalized, he's readier than ever to clean Doc Ock's clock!
Back on her feet, the Cat convinces Spider-Man they can be a crimefighting couple - but are the likes of the Hobgoblin, the Fly, the Cobra and Mr. Hyde too much for her? Unexpectedly, Spider-Man's off to the end of the universe for the Secret Wars - but while the spider's away, the cat will...what?
The Spidey/Cat relationship's meltdown begins here! Plus: the Kingpin and the Blob! Journalistic jeopardy with J. Jonah Jameson! The Punisher gone madder than usual! Secrets from Aunt May's youth, with a rare flashback to Spidey's Uncle Ben! And, yes, the credits said Fred Hembeck! Guest-starring Cloak and Dagger! This title also features the "Fantastic Four" and the "Avengers"!
It collects "Peter Parker, The Spectacular Spider-Man", numbered 75-96 and "Annual" numbered 4.
BIC: