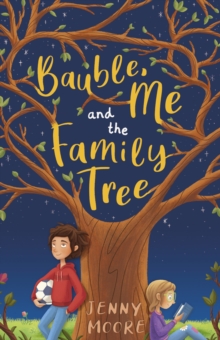 Bauble, me and the family tree
184886678X / 9781848866782
20 cm 244 pages : illustrations (colour)
Noel's grown used to his unusual family set-up: for years it's just been him, his widowed mum, super-brainy little sister Bauble, and his gay uncles next door.
But when Bauble spots Mum kissing Santa Claus-in August-everything Noel thought he knew about his family is turned upside-down.
Determined to discover the truth about their late father, Noel is only faced with more questions: why won't anyone talk about him, and why are there no photos?
Could it be he's still alive somewhere, working as an undercover cop?
A secret agent? Father Christmas?Noel's investigations take him in both comic and emotional directions, from the mystery of Mum's meat-modelling photos to the shocking truth about the man he called 'Dad'. But with a healthy dose of optimism and a vivid imagination to see him through, Noel might just find the answers he's looking for were right under his nose all along.
BIC: