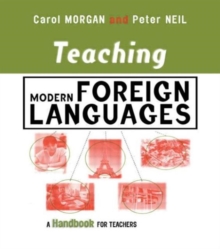 Teaching modern foreign languages : a handbook for teachers
0749433477 / 9780749433475
Usually dispatched within 4 weeks
postgraduate Learn More
research & professional
undergraduate
Written to meet the latest DfEE and TTA guidelines on MFL teaching, this book presents trainee and newly qualified teachers with all they need to successfully develop their teaching skills.
It will also be valuable for teacher trainers and in-school mentors, plus more experienced MFL teachers who want to reflect on and develop their skills.
Teaching Modern Foreign Languages is clearly and engagingly written and has three key objectives: it covers current demands for reaching qualified teacher status in MFL, brings a practical focus on classroom teaching and opens up a wider discussion on the context of MFL teaching, both in terms of the subject itself and of the teacher's own professional development.
Supported throughout with tasks and examples, it is an invaluable and practical source book to support all new teachers.
BIC:
1DBK United Kingdom, Great Britain, 4KHJ For National Curriculum Key Stage 2, 4KHN For National Curriculum Key Stage 3, 4KHT For National Curriculum Key Stage 4 & GCSE, JNU Teaching of a specific subject, YQF Educational: Languages other than English