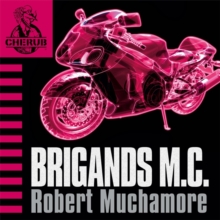 Brigands M.C.
Part of the CHERUB series
144492527X / 9781444925272
Usually dispatched within 4 weeks
1 online resource (432 p.)
Reprint. Description based on print version record. Originally published: 2009.
Every CHERUB agent comes from somewhere. Dante Scott still has nightmares about the death of his family, brutally murdered by a biker gang.
Dante is given the chance to become a member of CHERUB, a trained professional with one essential advantage: adults never suspect that children are spying on them.
But when Dante joins James and Lauren Adams on a mission to infiltrate Brigands Motorcycle Club, he's ready to use everything he's learned to get revenge on the people who killed his family ... For official purposes, these children do not exist. CHERUB: BRIGANDS M.C. is read by Simon Scardifield. (P) Hodder Children's Books 2015
BIC:
4KHN For National Curriculum Key Stage 3, 5AM Interest age: from c 11 years, YFCB Thrillers (Children's / Teenage), YFCF Crime & mystery fiction (Children's / Teenage)