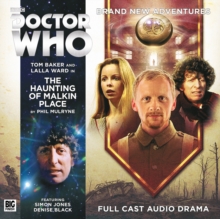 The Fourth Doctor Adventures : The Haunting of Malkin Place
1781787174 / 9781781787175
This range of two-part audio dramas stars Tom Baker reprising his most popular role as the Fourth Doctor (from 1974 - 1981) with a number of his original TV companions.
This fifth series reunites the Doctor with Romana (Lalla Ward), a fellow Time Lord for adventures across Time and Space!
Whilst on the way to visit the birthplace of MR James, a chance encounter with a spiritualist on a train sends the Doctor and Romana on the trail of a ghost.
It's the most convincing case of haunting he's ever heard of, he tells them. And so, on their arrival, does it appears to be. Things go bump in the night at Malkin Place. The voice of a crying child. Birds bursting into flight. Strange movements in a seance. The Doctor is determined there must be a rational explanation.
But is science always the answer to everything? This pairing of the Doctor and companion Romana harks back to the most-watched period of Doctor Who, one that to a generation is the most loved and iconic and which broke the records for viewers of the show.
Tom Baker's portrayal of the Fourth Doctor Who still tops popularity polls today.He was a special guest in 2013's 50th anniversary story Doctor Who - The Day of the Doctor and in 2016 was the subject of an extensive interview special read by the thousands of Doctor Who Magazine readers. Guest star Simon Jones was the definitive Arthur Dent in both the radio and TV versions of Douglas Adams' Hitchhiker's Guide to the Galaxy.
CAST: Tom Baker (The Doctor), Lalla Ward(Romana), Simon Jones (Talbot), Denise Black (Mrs Mountford), Gunnar Cauthery (Maurice), Fiona Sheehan (Beatrice), Rikki Lawton (Tom), Phil Mulryne (Jack).
BIC: