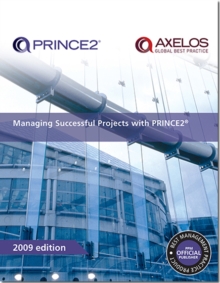 Managing successful projects with PRINCE2 (5th ed)
0113310595 / 9780113310593
Usually dispatched within 2 weeks
At head of title: OGC. Previous ed.: 2005.
This publication provides a universally applicable project management method - the principles, processes and techniques that enable individuals and organisations to successfully deliver their projects within time, cost and quality constraints. "Managing Successful Projects with PRINCE2[trademark]" forms part of a pair of publications that are the result of the PRINCE2: 2009 Project to update the PRINCE2 guidance.
Its companion is "Directing Successful Projects with PRINCE2[trademark]".
The title has been designed to be a role specific handbook for Project Managers, Team Managers and Project Support.
The new 2009 edition: explains the principles that underpin PRINCE2; describes the PRINCE2 processes in their entirety and 'Key Themes' of project management, specific to PRINCE2, that are required for the processes to be effective; cross-references techniques that may be applied; also explains how to tailor the method; and, provides context of when and how to use PRINCE2 for different project environments (e.g. standalone or as part of a programme). Like the 2005 guidance, the book contains chapters on Starting Up a Project, Directing a Project, Initiating a Project, Controlling a Stage, Managing Product Delivery, Managing Stage Boundary and Closing a Project.
In addition, the guidance also looks at the wider role of the Project Manager, including: soft skills of the project manager; leading and managing; stakeholder engagement and communication planning; organisational change management; PRINCE2 in different types of organisation and cultures; and, training needs for project teams.
This title includes real world examples and illustrations in each chapter.
It contains extensive appendices on the following topics: Product Descriptions; Governance; Role Definitions - Responsibilities and typical competencies by role; Product Based Planning example; and, Health Check.
It also contains a list of further information and glossary - definition of acronyms and terms used.
BIC:
£75.00
The title has been replaced. To check if this specific edition is still available please contact Customer Care +44(0)1482 384660 or schools.services@brownsbfs.co.uk, otherwise please click 9780113315338 to take you to the new version.
* Variable discounts between 0% and 15% are applied to items where BBfS cannot determine exact discounts from suppliers.