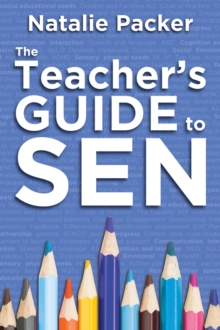 The teacher's guide to SEN
1785830252 / 9781785830259
One of the key messages of the Special Educational Needs and Disability Code of Practice, first introduced in 2014, is that every teacher is responsible and accountable for every pupil in their class, including those with SEN.
So what does this mean in practice for you as a class or subject teacher?
Essentially, it requires you to understand every individual's needs, have a range of relevant knowledge and skills and have the confidence to try out some new approaches.
This book is your essential guide to meeting these requirements. The Teacher's Guide to SEN details the areas of need teachers are most likely to encounter, including: speech, language and communication needs (SLCN); autism (or ASD); moderate learning difficulties (MLD); specific learning difficulties (SpLD), including dyslexia, dyspraxia and dyscalculia; social, emotional and mental health needs; and physical needs, including visual impairment (VI), hearing impairment (HI) and physical disability.
It also provides a useful overview of the many potentially unfamiliar acronyms used in SEN.
Special educational needs and disability (SEND) is an umbrella terms which covers a varied array of different needs.
They may impact upon learning and cognition, behaviour, social interactions, or an individual's ability to access the curriculum and certain activities in the same way as their peers.
With the appropriate support, these needs need not be a barrier to learning, as this book demonstrates. The Teacher's Guide to SEN offers practical hands-on strategies to ensure high-quality teaching for all, together with key facts, real-life case studies and questions for reflection.
The comprehensive advice includes: defining special educational needs; understanding your responsibilities; identifying pupils with SEN and putting support in place as part of the graduated approach; contributing to SEN reviews and education, health and care plans (EHC plans); making reasonable adjustments in the classroom; delivering inclusive, high-quality teaching for all; raising expectations; classroom strategies, focused on feedback, planning, questioning, modelling and scaffolding learning; developing relationships with pupils and their families; effective partnership working with teaching assistants, parents and outside agencies; and tracking and reviewing progress and provision. Relevant to all primary and secondary practitioners, this is an essential point of reference for busy teachers, including trainees, NQTs or indeed any practitioner who would like to refresh their knowledge or gather some new ideas to try in the classroom.
BIC:
JNS Teaching of specific groups & persons with special educational needs