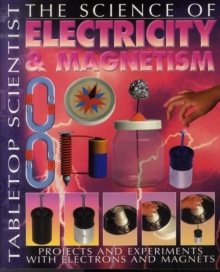 The science of electricity & magnetism : projects and experiments with electrons and magnets
0431013403 / 9780431013404
28 cm 32 p. : ill. (chiefly col.)
Spine title: Electricity & magnetism.
Teach the fundamentals of physics through hands-on project-making, using everyday materials.
Every title includes detailed step-by-step photograph instructions for each project and discusses a single scientific concept per spread; e.g. in Air: rising air, air pressure, lift, composition of air, etc.
Introductory text provides history and scientific facts, while boxed text and diagrams, including an `Einstein' device, are used to explain the science behind each project.
BIC:
4KHJ For National Curriculum Key Stage 2, 4KHN For National Curriculum Key Stage 3, 4KSD For P4-P6 (Scottish), YQSP Educational: Physics