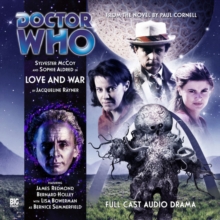 1781780242 / 9781781780244
Compact discs. Starring Sylvester McCoy, Sophie Aldred and Lisa Bowerman.
On a planet called Heaven, all hell is breaking loose.
Is the Doctor planning a deadly game connected with the coffins revered by the mysterious Church of Vacuum?
Archaeologist Bernice Summerfield thinks so. Can she save Ace from the Time Lord's plans?
BIC: