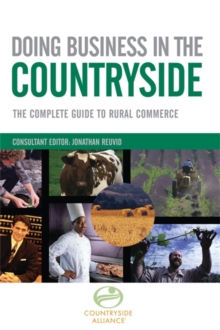 Doing business in the countryside : the complete guide to rural commerce
0749443898 / 9780749443894
Unique publication offering guidance to an under-resourced readership Supported by the Countryside Alliance Case studies provide practical support
"Doing Business in the Countryside" is a practical source of advice and reference for rural businesses and those contemplating setting up business in the countryside.
This unique publication highlights key issues and solutions for maximizing growth and controlling risks and gives a comprehensive insight into the challenges involved in building a rural business.
Often overlooked, the rural business community has its own set of unique problems and concerns.
This publication provides expert advice and practical guidance on subjects such as diversification, dealing with the planning authorities, business tenancies, employment duties, finance and funding for rural projects and buying and selling the business.
Case studies provide illustrations of real situations.
Supported by the Countryside Alliance, "Doing Business in the Countryside" covers the unique dilemmas facing rural businesses and provides invaluable support.
BIC:
Title Unavailable: Out of Print