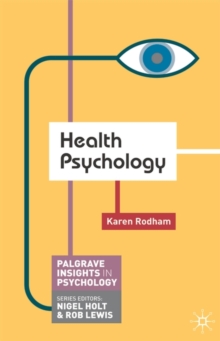 0230249450 / 9780230249455
Usually dispatched within 2 weeks
What are the processes that lead to illness and, inversely, to health and wellness?
How can healthcare systems be improved to help prevent and manage illness?
What are the primary political and lifestyle factors that can contribute to the promotion of public health and wellbeing?
Part of the Palgrave Insights in Psychology series, this straight-forward text provides a well-rounded introduction to the topic of health psychology and delivers an overview of the key issues within the discipline.
Readers can expect to learn about the various fields that comprise this interdisciplinary area of psychology such as sociology, medicine and politics.
Written for those who would like to gain a general understanding of the professional experiences and theoretical perspectives of the subject, this book introduces the main disorders at the heart of health psychology's focus such as chronic illness, cancer, pain, stress, smoking cessation and weight loss.
Further, Rodham examines the behavioural factors and wider political processes that affect the psychology of health, illness and healthcare in society. This title stands as part of the Insights series edited by Nigel Holt and Rob Lewis, containing versatile, quick guides to the cornerstone theories, main topics and theoretical perspectives of their subjects and are useful for pre-undergraduate students looking to find incisive introductions to subjects that they may be considering for undergraduate study or those looking for helpful preparatory reading for undergraduate modules in the prospective subject.
BIC:
4KL Designed / suitable for A & AS Level, JM Psychology, MBNH9 Health psychology
£15.99
The title has been replaced. To check if this specific edition is still available please contact Customer Care +44(0)1482 384660 or schools.services@brownsbfs.co.uk, otherwise please click 9781352002546 to take you to the new version.
* Variable discounts between 0% and 15% are applied to items where BBfS cannot determine exact discounts from suppliers.
Other Formats