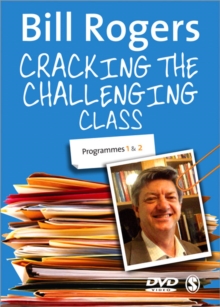 Cracking the challenging class
1446211266 / 9781446211267
Stock expected 26/09/2021
Notes to accompany the DVD can be found HEREIn these, his first UK DVD programmes, Bill Rogers explains and illustrates his tried and tested methods for Cracking the Challenging Class.
With a total time of two and a half hours, the programme and comprehensive supporting notes provide a wealth of information, theories and lessons for primary and secondary teachers. Programme 1 (Running time: 65 minutes)Using role plays to support his presentation, Bill explains his unique methods of calming unruly pupils and maintaining order in the classroom. Watch a video clip from Programme 1Programme 2 (Running time: 90 minutes)Bill answers questions posed by primary and secondary teachers in a workshop forum. Watch a video clip from Programme 2IndexFor your convenience when viewing the DVDs, both programmes are indexed with numbers at the top of the screen.
In programme 1 the numbers refer to the scenes; in programme 2 they relate to each question and answer. Programme NotesThe substantial notes that accompany these programmes can be downloaded from www.sagepub.co.uk/billrogersAlso available in licence format!Also available in licence format, with exclusive password protected access for your school.
It offers the choice of streaming the DVD from a website or downloading the DVD content onto your school network. Price: GBP295 + VAT per schoolTo enquire about a licence please contact specialsales@sagepub.co.uk?BILL ROGERS IN THE UK!Dr Bill Rogers will be lecturing in the UK and for schools, authorities and universities this autumn 2017, mid-September to mid-December.
For details of events, or to book Bill in to do training for your organization, please contact Lora Rogers at lrrogers07@gmail.com See his website for further information http://www.billrogers.com.au
BIC:
JNLB Primary & middle schools, JNLC Secondary schools, JNT Teaching skills & techniques