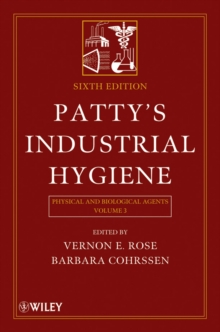 Patty's industrial hygieneVolume 3 (6th ed.)
0470074868 / 9780470074862
Stock expected by 20/09/2020
Since the first edition in 1948, Patty's Industrial Hygiene and Toxicology has become a flagship publication for Wiley.
In the course of its nearly six decades in print, it has evolved into a standard reference for the fields of occupational health and toxicology.
The volumes on Industrial Hygiene are cornerstone reference works for chemists, engineers, toxicologists, and occupational safety personnel.
Volume 3 covers Recognition and Evaluation of Physical Agents and Recognition of Biohazards. Almost all of the chapters in the section Recognition and Evaluation of Physical Agents are new. Three new chapters are in the section on Biohazards: Bioaerosols, Bloodborne Pathogens, and Tuberculosis and Other Mycobacteria Communicable Diseases. These subjects are increasing in importance to industrial hygienists.
BIC: