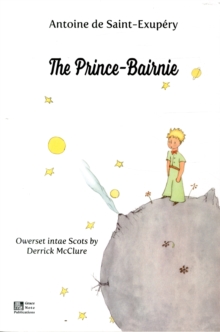 The Prince-Bairnie : Owerset intae Scots by Derrick McClure
1907676902 / 9781907676901
Usually dispatched within 4 weeks
152 x 229 mm, 280 grams 116 pages, 47
'LE PETIT PRINCE' by Antoine de Saint-Exupery translated into SCOTS by Derrick McClure.
VISITE: Grace Note Publications website for more information. "Wull ye draw a sheepie-meh for us?"Thus does one of the best-loved, and also one of the most enigmatic, characters in children's literature introduce himself in this new Scots translation of Saint-Exupery's Le Petit Prince.
This classic story has been translated into dozens of languages: indeed, it stands alongside Pinocchio and Alice's Adventures in Wonderland near the top of the list of the world's most translated books.
Until now, however, there has been no Scots version.
Derrick McClure has naturalised the humour, the pathos, and the profound wisdom of the original in a medium which combines the ancestral Ayrshire speech of his boyhood with words and expressions from the great tradition of Scots writing.
The merry and rapidly-growing company of children's classics in Scots renderings, which includes among others Taid o That Ilk, The Hoose at Pooh's Neuk and Asterix and the Pechts, has now a worthy recruit in The Prince-Bairnie.
BIC:
1DBKS Scotland, 2ACC Scots (Lallans, the Doric), FQ Myth & legend told as fiction, FYT Fiction in translation