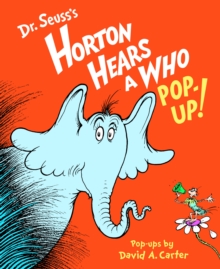 Horton Hears a Who Pop-up!
0375841946 / 9780375841941
211 x 260 mm, 686 grams 22 pages
Unlike other pop-up adaptations that use text abridgments, this book contains the complete text of Horton Hears a Who! David A. Carter has skillfully followed Seuss's signature pacing by alternating five big, blow-out pop-ups with 11 booklets, pull tabs galore, and many special effects. In all, ten glorious spreads bring this classic to life in magnificent full color.
BIC:
Title Unavailable: Out of Print