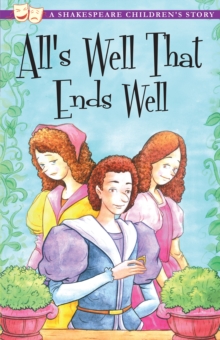 All's Well That Ends Well
1782267255 / 9781782267256
135 x 206 mm, 120 grams 64 pages
About Sweet Cherry Easy Classics:
From Shakespeare to Austen, Sweet Cherry Easy Classics adapts classic literature into stories for children, introducing these timeless tales to a new generation. All titles in the series are leveled for classroom use, including GRLs. The books target early readers ages 6-8, including early school-age children looking for exciting stories, as well as reluctant readers.
Popular books in the series include Pride and Prejudice, A Christmas Carol and Othello.
Another one of Shakespeare's witty comedies, this play is woven around Helena, the orphaned daughter of a famous physician, and Bertram, the son of her guardian. Helena is in love with Bertram, but he does not return her feelings. Nevertheless, Helena uses her intelligence to win Bertram as her husband.
BIC: