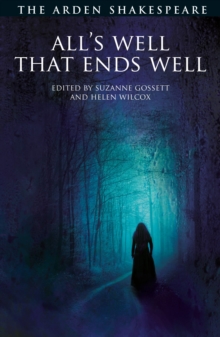 All's well that ends well
1904271200 / 9781904271208
20 cm xviii, 408 pages : illustrations (black and white)
In All's Well That Ends Well, Helen, a lowly ward, risks her life to satisfy her boundless love for Bertram, a count and ward to the King of France.
Following him to Paris, she concocts an endangering plan to win the King of France's favour and induce Bertram's hand in marriage.
In the comprehensive introduction to this new, fully-illustrated Arden edition, Suzanne Gossett takes a transformative look at the play's critical and performance history by offering fresh perspectives on the conundrum of genre, sexuality and moral dilemmas with masculinity and the structures of family.
The authoritative play text is amply annotated to clarify its language and allusions, and two appendices debate the play's authorship and review its casting.
Offering students and scholars alike a wealth of insight and new research, this edition maintains the rigorous standards of the Arden Shakespeare.
BIC: