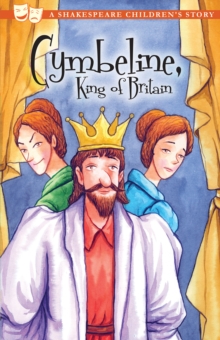 Cymbeline, King of Britain
1782260064 / 9781782260066
Usually dispatched within 4 weeks
129 x 196 mm, 50 grams 64 pages, 46 Line drawings, black and white
Cymbeline, King of Britain is a romantic play interwoven with war and tragedy.
It revolves around Cymbeline and his daughter, Imogen, who marries a lowborn gentleman, Posthumous against her father's wishes - and much to the displeasure of the evil stepmother. After their marriage, Posthumous is banished from Britain and Imogen is held as a prisoner in the palace. Also available as part of a 20 book set, including Romeo and Juliet, Hamlet, The Tragedy of Macbeth, A Midsummer Night's Dream, A Winter's Tale, The Taming of the Shrew, The Tempest, Twelfth Night, Timon of Athens, The Two Gentlemen of Verona, The Merchant of Venice, Othello, Much Ado About Nothing, King Lear, Julius Caesar, Cymbeline, The Comedy of Errors, As You Like It, Anthony and Cleopatra and All's Well That Ends Well.
BIC:
5AF Interest age: from c 5 years, YFA Classic fiction (Children's / Teenage)
* Variable discounts between 0% and 15% are applied to items where BBfS cannot determine exact discounts from suppliers.
Other Formats