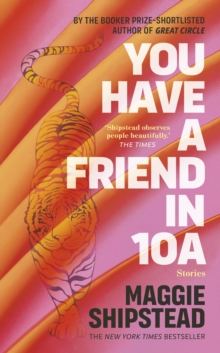 You have a friend in 10A
0857526820 / 9780857526823
BY THE AUTHOR OF THE 2021 BOOKER PRIZE-SHORTLISTED AND 2022 WOMEN'S FICTION PRIZE-SHORTLISTED GREAT CIRCLE'The same chilling brilliance of Daphne du Maurier's most unsettling short fiction' FINANCIAL TIMES'Has an innate charm of its own.
Beautifully realised' DAILY MAIL 'It's a rare writer who can create a world as convincingly over a few pages as in a 600-page novel; Shipstead's fluency in both forms is testament to the skill she modestly casts as a work in progress' Stephanie Merritt, GUARDIAN'Maggie Shipstead combines cinematic scope with a poet's attention to detail' THE TIMESA collection of sparkling award-winning stories from Maggie Shipstead, epic storyteller and astonishing chronicler of the daring and the damaged.
Diving into eclectic and vivid settings, from an Olympic village to a deathbed in Paris to a Pacific atoll, and illuminating a cast of unforgettable characters, Shipstead traverses the ordinary and extraordinary with cunning, compassion, and wit. Meet the silent cowgirl and horse wrangler escaping an ugly home life, only to fall into a decade-long triangle of unrequited love; a male novelist who is just reckoning with his own pretentiousness as his debut novel goes to print; a honeymoon couple's time in the hills of Romania builds into a moment of shattering tragedy.
In the title story, a famous child actress breaks away from a religious cult, as she tells - with brittle candour - her tale of childhood damage and the dark side of fame. Exuding both tenderness and bite, Shipstead exposes complicated truths in this dazzling collection sealing her reputation as an astonishingly versatile master of fiction. ---------------------'Shipstead is a writer who can vividly summon whatever she chooses, taking the reader deep inside the world she creates' FINANCIAL TIMES'Shipstead observes people beautifully' THE TIMES
BIC:
FA Modern & contemporary fiction (post c 1945), FJH Historical adventure, FJMS Second World War fiction, FV Historical fiction, FYB Short stories