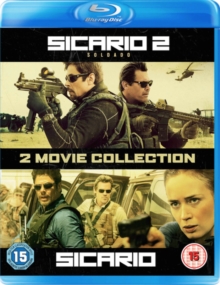 Sicario/Sicario 2 - Soldado
(15) Suitable for 15 years and over.
Double bill of action thrillers. 'Sicario' (2015) stars Emily Blunt as FBI agent Kate Macer who is recruited by government official Matt Graver (Josh Brolin) to join a team, led by mysterious consultant Alejandro Gillick (Benicio Del Toro), on a secret mission to bring down a drug lord in Mexico.
The operation is fraught with danger and Kate finds herself forced to reconsider what she stands for as she tries to successfully complete the mission and make it out alive.
In the sequel, 'Sicario 2 - Soldado' (2018), following the discovery that the Mexican drug cartels are smuggling terrorists across the border into the United States, the CIA recruits Graver and Gillick to try and stop them.
However, after kidnapping the daughter of a notorious drug lord in a bid to turn the cartels against each other, the pair soon find trouble as the Mexican authorities uncover the scheme.
With tensions mounting, things go from bad to worse as Gillick goes rogue, leaving Graver to form a new team to try and hunt him down.