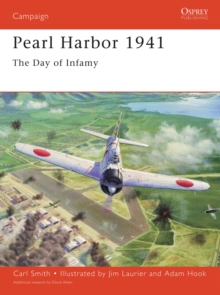 Pearl Harbor : the day of infamy ([Rev. 60th anniversary ed.])
Part of the Campaign series
184176390X / 9781841763903
Usually dispatched within 4 weeks
25 cm 96p. : ill. (some col.)
Previous ed.: 1999. Cover and spine title: Pearl Harbor, 1941.
December the 7th, 1941, was a decisive day in World War II - it brought the USA into the war.
This account of Pearl Harbor provides an illustrated examination of one of the most significant and controversial events of the war.
It seeks to uncover what really happened and why the Japanese were so successful.
The authors reveal several aspects of the attack that are little known and dispel the myths that have been built up around that fateful day.
This revised 60th anniversary edition is packaged with a free CD featuring extracts from the Osprey Web event essentialpearlharbor.com.
BIC:
1KBB USA, 3JJH c 1939 to c 1945 (including WW2), HBJD European history, HBJK History of the Americas, HBWQ Second World War, JWLF Battles & campaigns