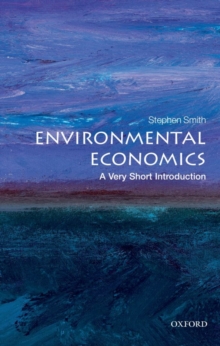 Environmental economics : a very short introduction
0199583587 / 9780199583584
18 cm xvi, 136 pages : illustrations (black and white)
If environmental protection is costly, how much should we spend on pollution control?
Is it worth reducing pollution to zero, or should we accept some level of pollution because of the economic benefits associated with it?
How can we assess the benefits that people get from a less-polluted atmosphere?In broad terms, environmental economics looks at how economic activity and policy affect the environment in which we live.
Some production generates pollution, such as power station emissions causing acid rain and contributing to global warming, but household consumption decisions also affect the environment, where more consumption can mean more waste sent to polluting incinerators.
However, pollution is not an inevitable consequence of economic activity - environmental policies can requirepolluting firms to clean up their emissions, and can encourage people to change their behaviour, through environmental taxes on polluting goods, for example.
Generally, though, these measures will involve some costs, such as installing pollution control equipment.
So there's a trade-off: a cleanerenvironment, but economic costs.
In recent years, many economists have argued for greater use of incentive in the form of pollution charges and emissions trading rather than more traditional direct regulation of polluters.
In this Very Short Introduction, Stephen Smith discusses environmental issues including pollution control, reducing environmental damage, and global climate change policies, answering questions about how we should balance environmental and economic considerations, and what form government policies should take.
Including many illustrative case studies and examples he shows that this is an exciting field of economics, and one that is at the heart of many public debates and controversies. ABOUT THE SERIES: The Very Short Introductions series from Oxford University Press contains hundreds of titles in almost every subject area.
These pocket-sized books are the perfect way to get ahead in a new subject quickly.
Our expert authors combine facts, analysis, perspective, new ideas, and enthusiasm to make interesting and challenging topics highly readable.
BIC:
KC Economics, KCN Environmental economics, RN The environment