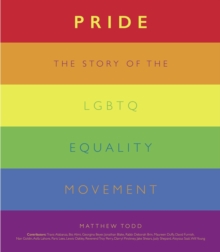 Pride : the story of the LGBTQ equality movement
0233005862 / 9780233005867
29 cm 192 pages : illustrations (black and white, and colour)
In June 1969, police raided New York gay bar the Stonewall Inn.
Pride charts the events of that night, the days and nights of rioting that followed, the ensuing organization of local members of the community - and the 50 years since in which activists and ordinary people have dedicated their lives to reversing the global position.
Pride documents the milestones in the fight for equality between genders and sexualities, from the victories of early activists, to the gradual acceptance of the LGBTQ+ community in politics, sport and the media and the passing of legislation barring discrimination.
Covering the key figures and notable moments, events and breakthroughs of the movement through the reproduction of rare images and documents, and featuring interviews and essays from notable figures, Pride is a unique and comprehensive account of the ongoing challenges facing the gay community, and a celebration of the equal rights that have been won for many as a result of the sacrifices and passion of this mass movement.
BIC:
HBTB Social & cultural history, JFFJ Social discrimination & inequality, JFSK Gay & Lesbian studies, JPWF Demonstrations & protest movements