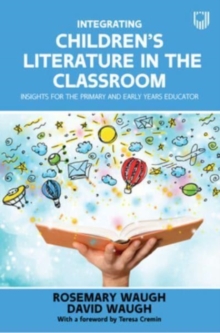 Integrating children's literature in the classroom : insights for the primary and early years educator
0335250807 / 9780335250806
Stock expected by 27/08/2022
Teachers can have a profound influence on children's reading behaviour and attitudes to literature.
Whether it's to broaden children's knowledge and understanding, or encourage reading for pleasure, reading in the classroom is becoming an increasing priority. This book looks at a wide range of children's literature from picture books to classics to poetry.
A diverse array of books is recommended for teachers to use in a broad variety of contexts to enhance learning across the curriculum, featuring beloved authors such as Michael Morpurgo, Tove Jansson and Kenneth Grahame, as well as introducing some who may be new to teachers. This book:*Recognises the key role of children's literature within the curriculum and learning development *Explores examples through case studies of classroom practice and highlights children's literature's role in Personal, Social, Health and Economic (PSHE) education*Celebrates the range of voices and contexts that literature can represent in the classroom*Includes a 'For your bookshelf' section in each chapter which summarises key titles*Dedicates a chapter to the importance of creating children's literature with and for childrenThe authors place emphasis on creating a literate environment in which children's literature is a central feature.
This is a must-read for teachers at all levels, as well as anyone who volunteers in schools to support readers. "Read on to enrich your practice right across the curriculum and find diverse books to engage and inspire children.
Enjoy!"Professor Teresa Cremin, The Open University, UK "How do we make sure children today recognise the value of reading for pleasure when so many other mediums are competing for their attention?
The answer lies within this excellent text."Megan Stephenson, PGCE Primary ITT Lead, Leeds Trinity University, UK"It is an essential book for the primary school - needed now more than ever before."Adam Bushnell, Author of Modelling Exciting Writing and Descriptosaurus: Story WritingRosemary Waugh is a retired teacher who has written extensively on children's literature, spelling, punctuation and grammar.
She is an avid collector of children's literature. She works with David to lead workshops for reading volunteers in schools for the Open University, UK, and the charity Coram Beanstalk. David Waugh is a former deputy headteacher, education adviser and head of department, who is currently a professor at Durham University, School of Education, UK.
He has written more than sixty books on primary English as well as six children's novels, two of which were written with groups of children.
BIC: