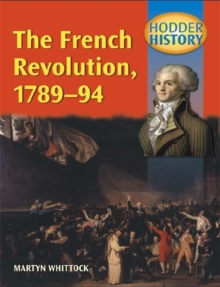 The French Revolution, 1789-94
0340789506 / 9780340789506
28 cm 46 p. : ill. (chiefly col.)
The French Revolution is an essential and unique resource for teaching and learning about the issues and events that characterise France before and after revolution.
It never lets go of the period's story, providing innovative and exciting opportunities to examine the Big Picture and Investigate particular topics.
Discover how Louis XVI's brother tried to stop the revolutionaries from meeting by booking the hall they were using for a game of tennis, why London jewellers had to employ a thousand workers to cope with the amount of jewels sold by escaping French aristocrats and how Danton advised the executioner to hold up his guillotined head as the crowd that had gathered to see his execution would find it was well worth seeing!
BIC:
3JF c 1700 to c 1800, 4KHN For National Curriculum Key Stage 3, YQH Educational: History