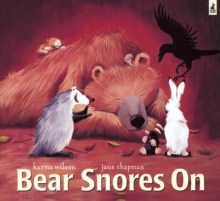 Bear snores on
1847388434 / 9781847388438
26 x 28 cm [32] p. : chiefly col. ill.
Reprint. Compact disc. Originally published: without accompanying sound disc. 2001. Read by David Tennant.
It seems like Bear can sleep through anything. As a succession of animals enter his cave to escape the fierce storm, he continues to snore.
Mouse makes a nice warm fire, Hare cooks popcorn and Badger brings treats...They are having a great time.
But when Bear wakes up and realises he's missed out on the fun, his visitors fear the worst.
Can Bear be persuaded to join the party? This read-aloud rhyming story has fun, suspense and a happy ending - with Jane Chapman's beautiful, captivating illustrations and Karma Wilson's absorbing, lyrical words perfectly depicting the companionship of the warm, cosy cave and the contrast with the wild storm outside.
BIC: