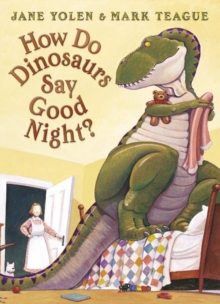 How do dinosaurs say good night?
0007235615 / 9780007235612
Usually dispatched within 4 weeks
22 cm [32] p. : chiefly col. ill.
Reprint. Originally published: New York: Scholastic, 2000; London: HarperCollins Children's, 2003. Board book.
/ Key title A playful peek into the homes of dinosaur babies and their parents at bedtime. / 'How Do Dinosaurs Say Good Night?' was published in the US in 2000, and reached number 1 in the Publishers Weekly Children's Bestsellers List, and number 3 in the New York Times Bestseller List. / Now younger readers can also enjoy prehistoric bedtime antics with this new, toddler-friendly, board book edition. / Jane Yolen is also the author of the 'Before They Were Heroes' children's fiction series for HarperCollins. / The titles in this series cleverly combine the popular pre-school theme of dinosaur
'How does a dinosaur say good night when Papa comes in to turn off the light?
Does a dinosaur slam his tail and pout? Does he throw his teddy bear all about?' Most certainly not!
Dinosaurs give their mums and dads big hugs and kisses, tuck their tails in and whisper, 'Good night!' Brimming with humour and familiar good-night antics, here is a playful peek into the homes of dinosaur children and their parents at bedtime.
Mark Teague uses a variety of perspectives in his dramatic, full-page pictures of a Tyrannosaurus Rex, a Triceratops and many more dinosaur favourites.
BIC: