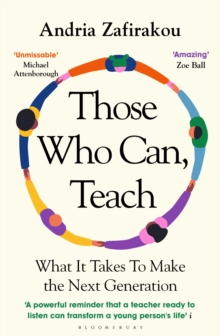 Those who can, teach : what it takes to make the next generation
1526614049 / 9781526614049
Reprint. Originally published: 2021.
'An amazing book . . . Read it gang, honestly' Zoe Ball'I haven't read a book for a long time that so often had me close to tears' Observer 'Inspirational . . . You can call this good teaching; what it looks like is love' Evening StandardThe powerful, inspiring story of Andria Zafirakou, 'the best teacher in the world', and what it takes to work on the frontlines of education todayArts teacher Andria Zafirakou was always a rule-breaker.
At her inner-city London school where more than eighty languages are spoken, she would sense urgent needs; mending uniforms, calling social services, shielding vulnerable teens from gangs. And she would tailor each class to its pupils, fiercely believing in the power of art to unlock trauma, or give a mute child the confidence to speak.
Time and again, she would be proved right. So in 2018, when Andria won the million-dollar Global Teacher Prize, she knew exactly where the money would go: back into arts education for all. Because today, the UK government's cuts and curriculum changes are destroying the arts, while their refusal to tackle the most dangerous threats faced by children - cyber-bullying, gang violence, hunger and deprivation - puts teachers on the safeguarding frontline. Andria's story is a rallying wake-up call that shows what life is really like for schoolchildren today, and a moving insight into the extraordinary people shaping the next generation. Praise for Andria Zafirakou:'A magic combination of belief and compassion' Financial Times'Andria Zafirakou should be an inspiration to all' i'Zafirakou's generosity offers a gleam of hope in a world that can seem unremittingly dark' Guardian'An amazing person . . . What struck me was just her sheer joy' Jeremy Vine, BBC Radio 2'Where others might have given up, Andria has made it her mission to ensure [her students] get the best possible start in life' Daily Mail
BIC:
JFFJ Social discrimination & inequality, JNFR Multicultural education, JNLC Secondary schools, MQTC Creative therapy (eg art, music, drama)