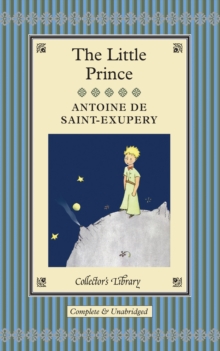 The little prince
1907360018 / 9781907360015
'All grown-ups were once children - although few of them remember it.' A pilot forced to crash land in the Sahara Desert encounters a little prince who is visiting the Earth from his own small planet with its three volcanoes and a beautiful flower.
Through this meeting, the aviator comes to discover many of life's universal truths which illuminate the human condition with all its foibles, cunning and eccentricities.
This wonderful and remarkable book will enchant both children and adults alike.
It is a strange and wonderful parable for all ages, championing the beauty and wisdom of childhood which fades when one becomes 'a grown up'.
Antoine De Saint-Exupery's book has been translated into over 180 languages and sold over 80 million copies.
Its magic is in its charm, its simplicity and its truths which speak to people of many nations and generations.
This is a specially commissioned new translation by Ros and Chloe Schwarz. Illustrated in black and white by the author, with an afterword by David Stuart Davies.
BIC:
FA Modern & contemporary fiction (post c 1945), FC Classic fiction (pre c 1945), YFA Classic fiction (Children's / Teenage)
The title has been replaced.To check if this specific edition is still available please contact Customer Care +44(0)1482 384660 or schools.services@brownsbfs.co.uk, otherwise please click 9781909621565 to take you to the new version.
Title Unavailable: Out of Print
Other Formats