It's Okay To Talk
9th November 2023
November is Movember, and Sunday 19th November is International Men's Mental Health Day, so I thought I would write this blog to talk about why these events exists; the importance of Men's Mental Health and a bit on my experience battling with mental health.
International Men's Mental Health Day is Sunday 19th November and this is a recurring event that take place every year. The aim of the day is to encourage and provide the opportunity to discuss actions we can take to help support mental health among men. In 2021, 74% of all suicides in the UK were male (4,000 all together); now it is more important than ever to change the stigma associated with men's mental health.
For centuries it has been drilled into men that 'Real' men have to be strong and show no weakness. Told that 'Real' men don't cry and were made to feel weak if we did. Made to feel as if we must be the providers in our family and do that without showing any emotion. Now in an ever changing world these stereotypes are being broken down and it is no longer the case. But no matter the changes happening most men still feel as if they cannot show emotion and be vulnerable as it is embedded into us to be a 'Real' man. As with most cases of suicide, emotions and feelings are bottled up and never spoken about. Buried deep inside of what will seem to be a strong confident person, will most likely be a person struggling and it's not until that struggle becomes too much for them and it is too late to help them, is when we find out. In what seems like 'an end to the pain' is nothing but a pain shifted, and it's this point of the battle that no one should ever get to which is why it is so crucially important to make Men's Mental Health an urgent focus.
No matter the age of a man there can still be struggles within them or within their life; at the age of 14 I started struggling badly with my mental health. With what was the pressures of school along with feelings buried inside of me, it all started to build on top of each other. I did well at keeping my feeling at bay and not letting them bubble to the surface, but it was the amount of time I did this for that became the real issue. At the age of 16 things became harder to bury, I started to become a lot more secluded at times and would begin to worry and suffer with anxiety. Eventually, enough was enough and I broke. There was no more holding back my emotions and I had to speak to someone. Thankfully, I had a great network of support from my family and friends that I could talk to and they helped me endlessly. The pain and suffering went. I started to be myself again and I was a lot happier but just because I had overcome this didn't mean it would never happen again and it did. When I was 17 I lost my dad and this is never easy to deal with. I slipped back into my old ways and buried my emotions and feelings because it was my time to support my family and help them through this hard time, like they did to me. At 18 years old, it once again became too much to deal with alone. In a time where most people around the world struggled and a year we lost so many loved ones, not just to suicide but to the COVID-19 virus, things became harder and harder to deal with once more. Spending days and nights crying, locked away in my room. Trying my best to keep it to myself and not burden my family once more, I eventually broke. I turned to those that had helped me before and spoke to them about what I was feeling. But this time was different, I knew I couldn't go on feeling the way I did and I knew I needed help. I made the conscious decision to seek help from a professional and consult my GP. But one thing we have to always remember is the worry and stress we all face will never 100% go away, its just how we deal with it that saves lives.
Unfortunately in life not everyone is lucky enough to have the support I had, nor the confidence to seek help. And this is where we need to help. Too many boys and men are being let down, ignored or can't find the advice and support they need. As a society we need to stand together to be kinder to those around us because you never know who is struggling inside. We all have a duty to educate ourselves on this topic, and make clear to those around us that we will listen without judgement, and that we will be there to support them. Schools and businesses need to put essential training in place and make an effort to ensure their students/staff feel safe to talk to them, as well as make a conscious effort to check up. Never leave a man in pain!
Bellow I have included some helpful links to some informative websites where you can gain more knowledge on men's mental health.
It is well known and well documented that reading has a myriad of benefits, so I have also added in some great titles that can give you advice on how to deal with mental health or help others struggling around you. To find more titles on mental health, take a look at our Mental Health Awareness page. And remember It's okay to talk!
Will, Marketing Team
https://uk.movember.com/mens-health/mental-health
https://www.themens-shed.co.uk/
Books for Adults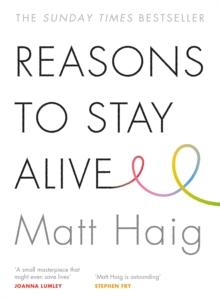 Reasons to stay alive
Haig, Matt
Paperback
Order THE COMFORT BOOK. Available now!THE NUMBER ONE SUNDAY TIMES BESTSELLERWINNER OF THE BOOKS ARE MY BAG READERS AWARD FOR NON-FICTIONWHAT DOES IT MEAN TO FEEL TRULY ALIVE? Aged 24, Matt Haig's world caved in. He could see no way to go on living. This is the true story of how he came through crisis, triumphed over an illness that almost destroyed him and learned to live again. A moving, funny and joyous exploration of how to live better, love better and feel more alive, Reasons to Stay Alive is more than a memoir. It is a book about making the most of your time on earth. "I wrote this book because the oldest clichés remain the truest. Time heals. The bottom of the valley never provides the clearest view. The tunnel does have light at the end of it, even if we haven't been able to see it . . . Words, just sometimes, really can set you free."
More Details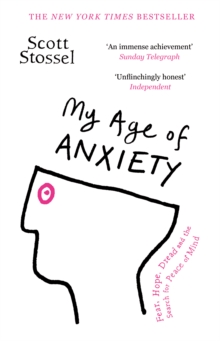 My age of anxiety : fear, hope, dread and the search for peace of mind
Stossel, Scott
Paperback
THE NEW YORK TIMES BESTSELLER and SHORTLISTED FOR THE WELLCOME BOOK PRIZE 2015 As recently as thirty-five years ago, anxiety did not exist as a diagnostic category. Today, it is the most common form of officially classified mental illness. Scott Stossel gracefully guides us across the terrain of an affliction that is pervasive yet too often misunderstood. Drawing on his own long-standing battle with anxiety, Stossel presents an astonishing history, at once intimate and authoritative, of the efforts to understand the condition from medical, cultural, philosophical and experiential perspectives. He ranges from the earliest medical reports of Galen and Hippocrates, through later observations by Robert Burton and Søren Kierkegaard, to the investigations by great nineteenth-century scientists, such as Charles Darwin, William James and Sigmund Freud, as they began to explore its sources and causes, to the latest research by neuroscientists and geneticists. Stossel reports on famous individuals who struggled with anxiety, as well as the afflicted generations of his own family. His portrait of anxiety reveals not only the emotion's myriad manifestations and the anguish it produces, but also the countless psychotherapies, medications and other (often outlandish) treatments that have been developed to counteract it. Stossel vividly depicts anxiety's human toll – its crippling impact, its devastating power to paralyse – while at the same time exploring how those who suffer from it find ways to manage and control it. My Age of Anxiety is learned and empathetic, humorous and inspirational, offering the reader great insight into the biological, cultural and environmental factors that contribute to the affliction.
More Details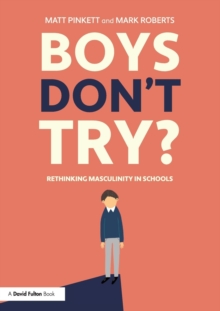 Boys don't try? : rethinking masculinity in schools
Pinkett, Matt
Paperback
Wide-ranging, detailed content and relies on sound educational researchUp to date, relevant, modern approach which will replace older, discredited researchWritten by two teachers with experience in teaching boys, both of whom run successful education/teaching blogsAppealing to a wide readership: secondary school teachers, leaders, pastoral positions; education students; trainee teachers
More Details
Books for Boys and Teens
The boys
Ace, Lauren
Paperback
The boys had been friends for as long as they could remember and a little while before that. They were like brothers. Follow the adventures of Tam, Rey, Nattie and Bobby - four boys who share a friendship that will last a lifetime. From playing on the beach as babies to navigating the journey from childhood to adulthood, this beautifully illustrated picture book explores the importance of male friendships. Emotive storytelling by Lauren Ace gently presents themes of individuality, grief, togetherness and feelings, while Jennie Lovlie's stylish artwork delicately presents the difficulties and triumphs of growing up. This is the perfect book for young readers who are facing big changes, and opens up discussions about school-life and the future. From the creators of the Waterstones Children's Book Prize winner, The Girls. "Gentle, tender and joyful..." - Guardian"...a nostalgic story with a refreshingly modern feel." - Daily Telegraph"The book is at pains to show non-stereotypical images of boys and men... and manages to be not only insightful but affecting." - Financial Times"With echoes of Helen Oxenbury's illustration style, Lovlie's characters glow, while her detailed, textured depictions of the seashore feel really alive." - Observer"Utterly charming... luminously illustrated..." - Attitude
More Details
How to be a lion
Vere, Ed
Paperback
Winner of the Oscar's Book Prize 2019 "This witty, resonant picture book is a manual for anyone's life, young or old." Sunday Times Children's Book of the WeekYou don't have to ROAR to be heard... Meet Leonard - a lion like no other. Leonard's best friend is Marianne, a duck. But lions chomp ducks, don't they? What will the pair do when their way of life is threatened?From the New York Times-bestselling author of Max the Brave comes a powerful story celebrating daydreamers, individuality and the quiet courage to be yourself. "Positive role models showing boys how to be a whole person are few and far between these days. This marvelous book triumphs in that essential job." Kirkus"Children will feel empowered after reading such a deliberate story of unyielding strength and self-awareness. Thoughtful and provocative words to live by." School Library Journal"gently reminiscent of Winnie the Pooh" BookTrust"Framed by a glowing palette of burnt yellows and oranges, and infused with humour and warmth, this thought provoking fable celebrates courage, individuality and the power of words." The Bookseller"A philosophical tale so, so full of heart, celebrating the quietest and gentlest among us." Library Mice"A gentle read with an overwhelming power. How to be a Lion by Ed Vere italicises the need to speak up for yourself and those less strong than yourself. With his signature bold artwork this is another crowd pleaser from the author and illustrator " Picture Books Blogger
More Details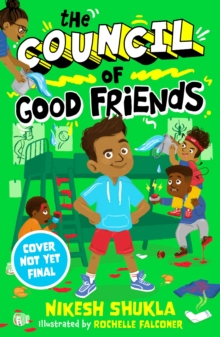 The council of good friends
Shukla, Nikesh
Paperback
A funny and heart-warming story for readers aged 6-9 from award-winning author Nikesh Shukla. Vinay, Musa, Inua and Nish are best friends. Nothing can separate them... until one day when Vinay's cousin comes to invade his bunk bed haven (i.e. share his room). When a prank war starts, can the friends remember what really matters?Filled with fun illustrations by Rochelle Falconer, The Council of Good Friends is full of both hilarious mayhem and caring moments of friendship.
More Details