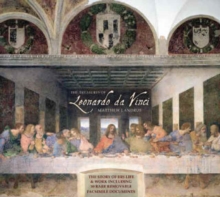 The treasures of Leonardo da Vinci : the story of his life & work including 30 rare removable facsimile documents
0233001867 / 9780233001869
Stock expected by 27/10/2018
28 x 31 cm 66 p. : ill. (chiefly col.)
Title from case. In slip case.
Born in 1452, Leonardo da Vinci is probably one of the world's best-known artists.
This beautifully illustrated project looks at the major events in his life.
Packed with information about his style of painting and drawing as well as his work as a civil and military engineer, it combines chapters on Leonardo's life with themed chapters on his inventions and key works, such as the "Mona Lisa" and the "Last Supper".
With 30 beautifully produced facsimile documents relevant to Leonardo's life - such as actual records of the Da Vinci family births and deaths - this is unique project is the only guide you will need to the life, times and work of Leonardo da Vinci.
BIC: