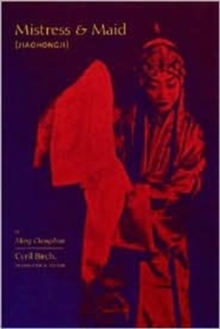 Mistress and Maid (Jiohong ji) by Meng Chengshun
0231121687 / 9780231121682
Stock expected by 14/06/2020
Mistress & Maid, one of the greatest tragedies of Chinese drama, is here available for the first time in English.
Acclaimed translator Cyril Birch presents the bittersweet tale of Bella, daughter of the Wang family, her maid Petal, and the young scholar Shen Chun.
After her father reneges on her marital pact, Bella refuses to renounce her love for Shen, with whom she has vowed to share "in life one room, in death one tomb." The subversion of both conventional morality and the arranged marriage through vivid drama and witty comic scenes makes this seventeenth-century play particularly innovative.
Chinese critics have hailed it as essentially revolutionary for its depiction of youthful resistance to latter-day Confucian values, but as Birch notes in the introduction, "the glory of Mistress & Maid is the tender delicacy of the lovers' interactions." This depth of feeling also distinguishes the play from others of the "talent-meets-beauty" genre so prevalent during the late-imperial age.
BIC:
2GDC Chinese, DD Plays, playscripts, DSBD Literary studies: c 1500 to c 1800, DSG Literary studies: plays & playwrights