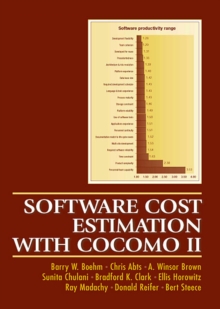 Software cost estimation with Cocomo II
0130266922 / 9780130266927
research & professional Learn More
technical & vocational
Don't become a statistic - take control of your software projects and plan for success!
Success in all types of organization depends increasingly on the development of customized software solutions, yet more than half of software projects now in the works will exceed both their schedules and their budgets by more than 50 per cent.
While some types of overruns remain unpredictable, most can be avoided by sound modeling.
COCOMO II provides you with a thorough rework of the classic COCOMO model to address modern software processes and construction techniques along with representative examples of applying the models to key software decision situations.
It was calibrated and validated using innovative statistical techniques to fit both expert judgment and 161 carefully collected project data points.
The book also introduces emerging COCOMO II extensions for cost and schedule estimation of COTS integration and rapid development.You'll also: learn firsthand from knowledgeable authors - over 100 person-years of software cost estimation experience; make better software decisions by exploring their cost implications; use the cost and schedule estimates to better plan and control your projects and manage your risks; get started now with the software on the accompanying CD; keep up to date with the authors' Web site.
Software engineers, managers, and students will all find "Software Cost Estimation with COCOMO II" an invaluable guide to developing and managing successful software projects on time and under budget.
The accompanying CD-ROM includes a current copy of COCOMO II, along with demonstration versions of three commercial COCOMO II packages and an extensive documentation suite.
All examples from the book are provided live, so you can work them hands on, along with the reading.
BIC:
UKR Maintenance & repairs, UM Computer programming / software development