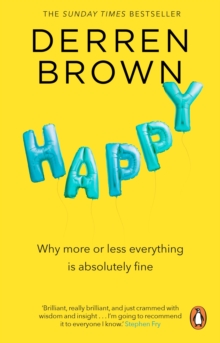 Happy : why more or less everything is absolutely fine
0552172359 / 9780552172356
20 cm xv, 557 pages : illustrations (black and white)
Reprint. Originally published: London: Bantam Press, 2016.
The Sunday Times Bestseller'Really brilliant and just crammed with wisdom and insight.
It will genuinely make a difference to me and the way I think about myself.' Stephen Fry___Everyone says they want to be happy.
But that's much more easily said than done. What does being happy actually mean? And how do you even know when you feel it?In Happy Derren Brown explores changing concepts of happiness - from the surprisingly modern wisdom of the Stoics and Epicureans in classical times right up until today, when the self-help industry has attempted to claim happiness as its own.
He shows how many of self-help's suggested routes to happiness and success - such as positive thinking, self-belief and setting goals - can be disastrous to follow and, indeed, actually cause anxiety. Happy aims to reclaim happiness and to enable us to appreciate the good things in life, in all their transient glory.
By taking control of the stories we tell ourselves, by remembering that 'everything's fine' even when it might not feel that way, we can allow ourselves to flourish and to live more happily. ___What readers are saying: ***** 'Immensely positive and life-affirming'***** 'This is the blue print to a good life'***** 'Thought provoking and potentially life-changing.'
BIC: