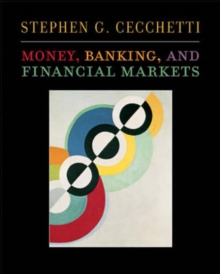 Money, Banking and Financial Markets
007111565X / 9780071115650
203 x 228 mm, 1229 grams 704 pages
Stephen Cecchetti's new text on Money and Banking offers a fresh, more modern, and more student-friendly approach to the subject.
The author has drawn on his vast experience as Vice President at the Federal Reserve Bank of New York, publishing in and editing various journals, and consulting for the European Central Bank, the Bank of England, the Bank of Israel, and the Reserve Bank of Australia as well as his years of teaching at various schools including Ohio State, Brandeis, Princeton, and Oxford University.
Students will find the material more relevant and interesting because of the book's unique emphasis on the Five Core Principles, the early introduction of risk, and an integrated global perspective. "Cecchetti" is the money and banking book for today's students; by focusing on the big picture via core principles, "Cecchetti" teaches students the rationale for financial rules and institutional structure so that even when the financial system evolves, students' knowledge will not be out of date.
BIC:
The title has been replaced.To check if this specific edition is still available please contact Customer Care +44(0)1482 384660 or schools.services@brownsbfs.co.uk, otherwise please click 9780071287722 to take you to the new version.
Title Unavailable: Out of Print