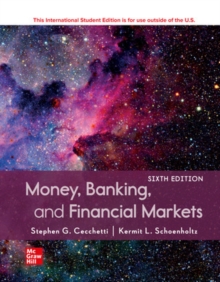 Money, banking, and financial markets (Sixth edition International student edition)
126057136X / 9781260571363
26 cm 1 volume (various pagings)
Previous edition: 2017 Description based on information supplied online (viewed on January 10, 2022).
Cecchetti& Schoenholtz's Money, Banking, and Financial Markets 6estays relevant and interesting through the product's unique emphasis on theFive Core Principles, the early introduction of risk, an integrated globalperspective, and the integration of FRED data in both the text and problemmaterial.
By focusing on the big picture via core principles, Cecchetti teachesstudents the rationale for financial rules and institutional structure so thateven when the financial system evolves, students' knowledge will not be out ofdate.
Be sure to visit the author blog at www.moneyandbanking.com for short, informed discussions onissues in the news, as well as technical points relevant for instructors andstudents alike. ConnectEconomics: McGraw-Hill's online assignment and assessment tool.
Cecchettipaired with Connect Economics provides assignable, auto-gradable versions ofend-of-chapter problems in static and algorithmic format, as well as test bankcontent and graphing problems.
Students receive detailed step-by-step feedbackon assignments and assignable content is fully integrated with the eBook.Students are also able to search, highlight, and take notes within theReadAnywhere eBook and complete SmartBook 2.0 assignments offline.
Connectprovides instructors with powerful reporting tools allowing them to plan,track, and analyze student performance across learning outcomes.
BIC: