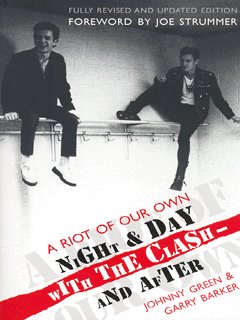 A riot of our own : night and day with The Clash - and after (Rev. and updated ed)
0752858432 / 9780752858432
20 cm 280 p., [16] p. of plates : ill.
Previous ed.: London: Indigo, 2000.
Published to coincide with the first anniversary of Joe Strummer's death Fully revised and updated edition - also now includes 16pp photographs No one could be better placed to tell the story of the Clash Johnny Green was road manager to the Clash for three years He was also regularly in contact with the band members since that time Includes the original introduction written by Joe Strummer An album of material Joe Strummer was working on right up to the time of his death is soon to be released There will also be a DVD release of the 2000 Clash video Westway to the World, nominated for best lo
'The audience were going wild before the gig and ripping out the seats.
Seats stopped people from dancing, and the Clash didn't want to perform to people sitting on their arses and admiring their musicianship...We were even running a little sweepstake on how much damage would be caused. "I reckon they'll trash them all up to row G." "No, look at that bloke go.
They'll easily reach J.". Johnny Green first met the Clash in 1977 and was their road manager for three years.
Ray Lowry accompanied the band as official "war artist" on the second American tour and designed the ' London Calling' album cover.
Together, in words and pictures, Green and Lowry give the definitive, inside story on one of the most magnificent rock 'n' roll bands ever.
BIC:
AVGP Rock & Pop music, AVH Individual composers & musicians, specific bands & groups, BGF Biography: arts & entertainment
Title Unavailable: Out of Print
Other Formats