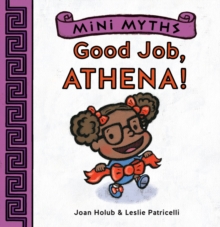 Mini Myths: Good Job, Athena!
1419718983 / 9781419718984
Stock expected by 02/03/2020
190 x 183 mm, 340 grams 24 pages
After Athena ties Arachne's shoes for her, Arachne takes the credit for Athena's hard work.
But when their friends ask Arachne to teach them how to tie their shoes, Arachne must admit the truth.
So Athena comes to the rescue and teaches everybody this important skill.
All is forgiven, and the girls are friends again. Conceived and crafted by Greek-mythology expert Joan Holub and illustrated by the bestselling Leslie Patricelli, this book also includes a summary of the original Arachne myth.
BIC: