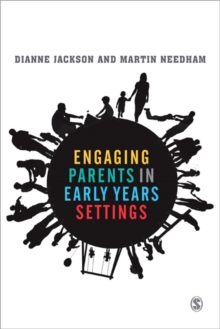 Engaging with parents in early years settings
1446258955 / 9781446258958
'It is inspiring to see a text which attempts to shift our worldview.
This shift could give us the chance to achieve more open, inclusive, democratic early childhood practice that has the capacity to answer the deeper questions and which sees both parents and children as powerful and positive agents in their own futures' - Chris Pascal and Tony Bertram, Directors of the Centre for Research in Early Childhood (CREC)The role of parents in the early years is fundamental.
In order to achieve the best outcomes for children, mutually beneficial relationships between parents and practitioners need to underpin children's care and learning. There are many services for children and many different settings in which care and education can take place. Whether you work in children's centres, outreach and dual-focused services, preschools, kindergartens or schools this book will help you develop the skills and strategies to work alongside parents whatever your role. Focussing on:The importance of involving parentsThe nature of learningHow to engage and build relationships with parentsHow to reflect on and develop shared learning environment in settingsTransitions and attachmentThis book has examples taken from real settings and practical advice to help you put the ideas into practice.
Reading and using it will help ensure the wellbeing and development of all children in your care. Dianne Jackson is an Adjunct Fellow at the University of Western Sydney and the CEO of Connect Child and Family ServicesMartin Needham is Academic Division Leader: Education, Professional and Community Studies at Manchester Metropolitan University
BIC:
JNKP School/community relations & school/home relations, JNLA Pre-school & kindergarten