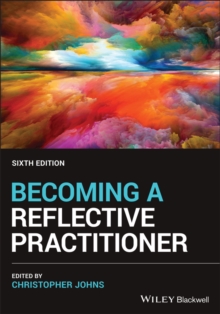 Becoming a reflective practitioner (Sixth edition)
1119764742 / 9781119764748
26 cm xiii, 304 pages : illustrations (black and white, and colour)
BECOMING A REFLECTIVE PRACTITIONER In the newly revised sixth edition of Becoming a Reflective Practitioner, expert researcher and nurse Christopher Johns delivers a rich and incisive resource on reflective practice in healthcare that offers readers a diverse and expansive range of contributions.
It explores the value of using models of reflection, with a focus on John's own model of structured reflection, to inform and enhance the practice of professional nursing. This book is an essential guide for everyone using reflection in everyday clinical practice or required to demonstrate reflection for professional registration.
Students will acquire new insights into how they interact with their colleagues and their environment, and how those things shape their own behaviours, both positively and negatively.
Readers will learn to "look in" on their thoughts and emotions and "look out" at the situations they experience to inform how they understand the circumstances they find themselves in. Readers will also benefit from: Thorough introductions to reflective practice, writing the Self and engaging in the reflective spiralComprehensive explorations of how to frame and deepen insights, weave and perform narrativesPractical discussions of how to move towards more poetic form of expression and reflecting through art and storyboardIn-depth examinations of the reflective curriculum, touch and the environment and reflective teaching as ethical practice Perfect for nurses in clinical practice, conducting research or developing their practice, the latest edition of Becoming a Reflective Practitioner is also an indispensable resource for mentors and clinical supervisors, post-registration nursing and healthcare students and other healthcare practitioners.
BIC: