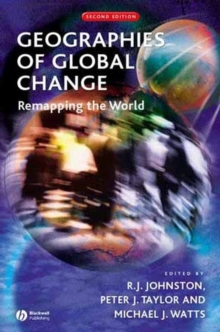 Geographies of global change : remapping the world (2nd ed)
0631222863 / 9780631222866
Stock expected by 10/07/2022
postgraduate Learn More
research & professional
undergraduate
The second edition of this popular collection presents 28 specially commissioned essays by leading geographers from across the world, addressing questions about how and why the world has changed, is changing, and will continue to change.
The volume provides students with a series of critical insights into the economic, political, social, cultural and ecological dimensions of change at every geographical scale from the global to the local.
For the updated edition, several new topics have been added in order to keep the text contemporary.
New material has been incorporated on economic changes relating to world trade and labour, on political changes in the post cold-war era and geopolitics, on social and cultural changes relating to children, race, consumption, and cyberspace, and on changes in environmental governance.
In addition, the editors have written a new essay to introduce the volume by providing a distinctive geographical take on globalization.
Existing chapters have been revised or rewritten as necessary.
BIC: