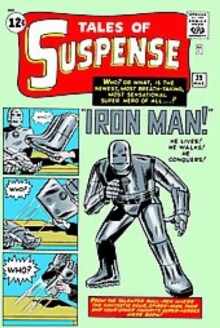 The invincible Iron Man omnibusVol. 1
0785129006 / 9780785129004
28 cm 720 p. : chiefly col. ill.
Iron Man's first few years of activity took him through three sets of armor and his first several showdowns with such archenemies as the Mandarin and the Titanium Man - plus confrontations with major menaces like the Chameleon, Count Nefaria, and the Mad Thinker!
Dictatorships across the world, beneath the sea, under the earth, and through time itself fall before the Armored Avenger's awesome array of apparatus!
This title guest-stars Captain America, the X-Men's Angel and more!
Featuring the introductions of Iron Man's most infamous foes-turned-friends, the Black Widow and Hawkeye!
This title collects "Tales of Suspense" numbered 39-83 and "Tales to Astonish" numbered 82.
BIC:
Title Unavailable: Out of Print