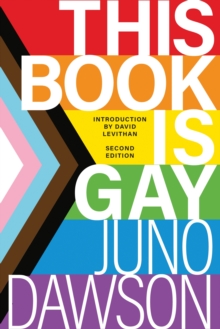 1728254329 / 9781728254326
The bestselling young adult non-fiction book on sexuality and gender!Lesbian.
Gay. Bisexual. Transgender. Queer. Intersex. Straight. Curious. This book is for everyone, regardless of gender or sexual preference.
This book is for anyone who's ever dared to wonder. This book is for YOU. This candid, funny, and uncensored exploration of sexuality and what it's like to grow up LGBTQ also includes real stories from people across the gender and sexual spectrums, not to mention hilarious illustrations. Inside this revised and updated edition, you'll find the answers to all the questions you ever wanted to ask, with topics like:Stereotypes-the facts and fictionComing out as LGBTWhere to meet people like youThe ins and outs of gay sexHow to flirtAnd so much more!You will be entertained.
You will be informed. But most importantly, you will know that however you identify (or don't) and whomever you love, you are exceptional.
You matter. And so does this book. This book is for:LGBTQIA+ teens, tweens, and adultsReaders looking to learn more about the LGBTQIA+ communityParents of gay kids and other LGBT youthEducators looking for advice about the LGBTQIA+ communityPraise for This Book is Gay:A Guardian Best Book of the Year2018 Garden State Teen Book Award Winner"The book every LGBT person would have killed for as a teenager, told in the voice of a wise best friend.
Frank, warm, funny, USEFUL."-Patrick Ness, New York Times bestselling author"This egregious gap has now been filled to a fare-thee-well by Dawson's book."-Booklist *STARRED REVIEW*
BIC:
YNU Humour & jokes (Children's / Teenage), YXF Personal & social issues: family issues (Children's / Teenage)
Title Unavailable: Out of Print