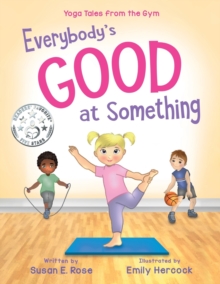 Everybody's Good at Something : Yoga Tales from the Gym
1736713205 / 9781736713204
Usually dispatched within 4 weeks
216 x 280 mm, 145 grams 38 pages
Building Self-Confidence and Fitness One Yoga Pose at a Time!
Do you want to help children develop self-confidence and improve their fitness levels? The two go hand in hand!
Everybody's Good at Something is the story of Katie, who can't do anything in gym class until Miss Bendy, the PE teacher, introduces yoga.
Children and adults will identify with Katie, as she discovers what she IS good at!
So much more than a story, Everybody's Good at Something includes a fun and effective yoga practice to improve self- confidence, fitness levels, and overall well-being!
BIC:
VX Mind, Body, Spirit, WSK Track & field sports, athletics, YB Picture books, activity books & early learning material