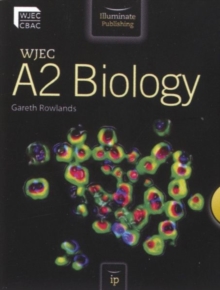 WJEC A2 Biology - Student Book (UK ed.)
1908682086 / 9781908682086
219 x 276 mm 198 pages, 125
The first textbook available for WJEC A2 Level Biology.
Written by leading author and former Principal Examiner Gareth Rowlands, this student book reflects the experience of teaching and examining this course since its introduction in 2008.
It provides detailed explanations and underpinning knowledge in clear uncomplicated language so that students can perform well in their exams.
Numerous practice exam-style questions for each topic ensure plenty of exam practice and knowledge reinforcement. The vibrant colour design makes the information accessible and appealing. Features include: You should know provides specific learning objectives for the sub-topic ahead. / How Science Works helps students understand something about science itself, how scientists work, how scientific knowledge has been obtained and how reliable it is. / Study points help with understanding and using the knowledge content. / Examiner tips provide advice to help students with their studies and prepare them for the exam. / Links provide a reference to any parts of the course where sections relate to one another.
They may suggest a recap of a topic before beginning to study the current topic./Key term definitions both on the page and within the glossary at the end help students prepare for their correct use in the exams. / Knowledge check questions check understanding of the subject and help with applying the knowledge.
Answers are provided at the end of the book. The textbook combines perfectly with Illuminate's Study & Revision Guide to give your students everything they need to support them through their studies and prepare them for their final exams.
BIC:
4KL Designed / suitable for A & AS Level, PS Biology, life sciences