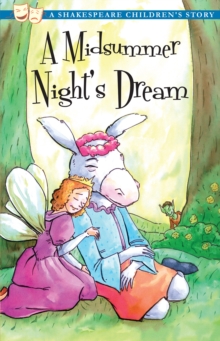 A Midsummer Night's Dream
1782260005 / 9781782260004
129 x 196 mm, 50 grams 64 pages, 43 Line drawings, black and white
Primary & Secondary Education (US: Elementary & High School) Learn More
Children / Juvenile
A Midsummer Night's Dream is one of the most popular comedies by Shakespeare.
Just as confusing, and equally as entertaining, the play revolves around Hermia and her best friend, Helena.
Hermia runs away into the woods with her lover, Lysander.
Demetrius, the man of her father's choice, then follows them.
Helen, being in love with him, follows Demetrius. In the woods however, they come across Oberon and Titania, King and Queen of the Fairies, where much confusion is created when Puck, one of the fairies, causes havoc with a love potion. Also available as part of a 20 book set, including Romeo and Juliet, Hamlet, The Tragedy of Macbeth, A Midsummer Night's Dream, A Winter's Tale, The Taming of the Shrew, The Tempest, Twelfth Night, Timon of Athens, The Two Gentlemen of Verona, The Merchant of Venice, Othello, Much Ado About Nothing, King Lear, Julius Caesar, Cymbeline, The Comedy of Errors, As You Like It, Anthony and Cleopatra and All's Well That Ends Well.
BIC:
5AF Interest age: from c 5 years, YFA Classic fiction (Children's / Teenage)