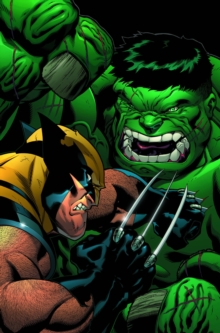 World war Hulk : Marvel universe
Part of the HULK series
0785128883 / 9780785128885
26 cm 240 p. : chiefly col. ill.
"World War Hulk" is encompassing the entire Marvel Universe, and the effects of the fight are being felt by every hero, villain, and civilian.
In "Avengers: The Initiative", when the Hulk and his Warbound invade America, the Superhuman Armed Forces answer the call!
Meanwhile, the Irredeemable Ant-Man is on the run, hiding from S.H.I.E.L.D.
But now things have changed - the Hulk has come to town!
Also, with Iron Man missing after his battle with the Hulk, S.H.I.E.L.D. is thrown into chaos!In other corners of the Marvel U, Johnny Blaze gets what he wanted.
Temporarily setting aside his quest for the remaining avatars of Lucifer, he has forced the Ghost Rider into a confrontation with The Hulk in hopes of saving the innocent. And it's an all-out action as the X-Men battle the Hulk in defense of Professor Xavier's dream!
You've never seen a Hulk/Wolverine matchup this savage!
This title collects "Avengers: The Initiative", number 4; "Irredeemable Ant-Man", number 10; "Iron Man", numbered 19-20; "Ghost Rider", numbered 12-13; and, "World War Hulk: X-Men", numbered 1-3.
BIC:
FX Graphic novels, YFW Comic strip fiction / graphic novels (Children's / Teenage)
Title Unavailable: Out of Print