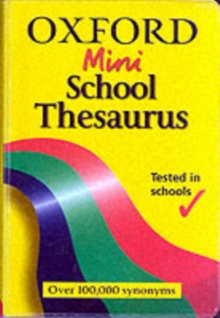 Oxford mini school thesaurus
0199108536 / 9780199108534
The ideal portable dictionary for school use
The "Oxford Mini School Thesaurus" is specially written to encourage users to find new or alternative words quickly and easily.
It is the perfect tool to improve writing skills and build vocabulary.
Special features include: alphabetical layout to find synonyms quickly and easily; thematic panels give groups of related words for extended project work in schools; opposites for vocabulary extension; and cross-references signpost other useful words.
Features include: word classes (parts of speech) to build grammatical skills and lead reader to appropriate word; up-to-date sentences and phrases to show how words are used in context; labels [formal, informal, old-fashioned etc.] to encourage accurate use of language; and idiomatic phrases to show the more common use of words.
BIC:
2AB English, 4KH Designed / suitable for National Curriculum, YRD Dictionaries, school dictionaries (Children's / Teenage)