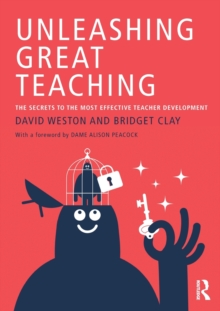 Unleashing great teaching : the secrets to the most effective teacher development
1138105996 / 9781138105997
25 cm 184 pages : illustrations (black and white)
It's within the power of each and every school to unleash the best in teachers, day by day, month by month, year by year. This practical handbook takes the guesswork out of professional learning, showing school leaders how they can build a self-improving culture and remove barriers to learning.
David Weston and Bridget Clay set out their advice for how every school can bring in the best ideas from the whole system, and make sure that these have a lasting effect in the classroom.
Packed full of examples, easy-to-use ideas and checklists, Unleashing Great Teaching brings together a vast body of experience gained by the Teacher Development Trust (UK), and shows how other schools can learn from these insights.
From fostering a culture of evaluating impact to establishing good relationships, communication and a developmental culture, this book takes each and every aspect of the school system and reassesses its role as a driver of teacher and student success. An invaluable resource for leaders at any level within the schooling system, Unleashing Great Teaching will open doors and inspire leaders, teachers, students and communities to learn about learning.
BIC:
JNK Organization & management of education, JNMT Teacher training